Who We Are
Chantale Milord, Founder and CEO, opened the doors of Grace Leadership Preperatory Institute (GLPI) in 2005. Her vision was to reduce the educational, experiential, spiritual, and psychological shortcomings of children, families, and communities in need. Today, her vision has grown into second campus at GLPI, and more expansion is coming. GLPI is a 501(c)(3) accredited K-12 college preparatory Christian school with a personalized digital learning environment. Our team is committed to delivering a comprehensive education. The curriculum uses digital learning strategies at each grade level; students can then apply it successfully in higher education and the competitive work world.  As community advocates, we believe in supporting our students in many aspects of their lives, including nutrition, health and wellness, neighborhood safety, experiential travel, crime preclusion, and drug awareness.
GLPI's Advantages: Our 9 Point Plan
1. Certified kindergarten–12th grade curriculum
2. One-on-One learning with Chromebooks and iPads‬‬‬‬‬‬‬‬‬.
3. Project-based technology setting (Smart Boards). 4. Hands-on robotics ‬and coding ‬for gaming software.
5. GLPI Arts Academy – Performing Arts, Music Theory and Fine Arts.
6. Teacher-led afterschool Study Hall with homework assistance. 7. College preparation – SAT, ACT, PERT Prep and dual enrollment‬.
8. Leadership principles guided by discipline & character development.
‬9. Co-educational sports: ‬Basketball, Track, Cheerleading, and Flag Football; club ‬enrichment & extracurricular activities.
Our Philosophy
Mission
Our mission is to teach students, families, and communities to take control of their lives and futures — through academic excellence and self-efficacy — by becoming independent thinkers and responsible adults.

Core Values
GLPI is a structured learning community that inspires students spiritually, emotionally, and intellectually to take ownership of the life God has given to them and to transform themselves and the world entrusted to them. The school is equally committed to the development of each student's character, with an emphasis on grace, leadership, perseverance, and integrity.
Vision
While GLPI's emphasis is on a holistic student education, the day-to-day execution of policies and procedures strengthens through our "Straight A" Paradigm. Its implementation has a core focus on action for desired results, staff management, and community mentorships; it expands students' options for opportunities and strengthens their decision-making abilities.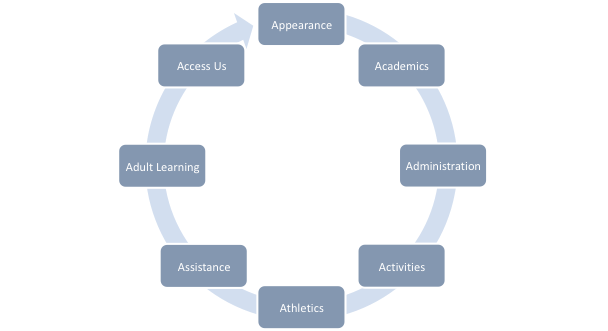 Our Breakfast
Through Dinner Educational Experience (BTD), gives students a dynamic environment and structured engagement throughout the day, focusing on specific, student-centered characteristics.
Each action emphasizes appropriate characteristics and reinforces students' good decisions. These characteristics support a variety of experiences for learning, entertainment, and recognition based on students' focus and actions.

More about GLPI's Breakfast Through Dinner Educational Experience

Accreditation, Memberships & Policies
Accreditation
GLPI is fully accredited by the Florida Coalition of Christian Private Schools Accreditation (FCCPSA). It is required to maintain a Continuing Improvement Plan and have the FCCPSA team visit every five years for accreditation renewal. GLPI renewed its accreditation in 2016.
Memberships
Aventura Marketing Council
Better Business Bureau (BBB)
Florida International University (FIU)
Florida League of Christian Schools (FLOCS)
Florida High School Athletic Association (FHSAA)
Greater Miami Chamber of Commerce
Miami Dade College (MDC)
Miami Dade Non-Public School Association
Nova Southeastern University
St. Thomas University
Educational & Non-Discrimination Policies
Diverse Community: GLPI is a diverse school community at which students and staff are given equal access to all rights, privileges, programs, and activities generally accorded or made available to students and staff at the school. We do not discriminate based on race, color, creed, gender, national and ethnic origin, or disability in administration of our hiring policies, educational policies, admissions policies, scholarship and loan programs, and athletic and other school-administered programs.
GLPI's Educational Policy: It is our desire to provide reasonable opportunity for each student to be successful, while at the same time maintaining an atmosphere that we believe is conducive to spiritual, emotional, and intellectual development. For this reason, each student must be able to meet and maintain the school's academic and behavioral criteria for admission. We welcome students who desire to cultivate a life of purpose, self-discipline, personal development, and academic mastery through a personal relationship with Jesus Christ, and who want to be involved in extracurricular activities for the joy of participation.
Admission: Admission is open to all students regardless of race, color, creed, gender, national and ethnic origin, or disability who possess the desire, enthusiasm, ability, and character consistent with GLPI's standards.
Download the Standards of Ethical Conduct.pdf